Recipe: Delicious Spanish Paella with Aioli sauce
Spanish Paella with Aioli sauce. Spanish alioli sauce is a delicious garlic mayonnaise made with oil, garlic, and egg. Get the traditional recipe for a quick and easy Spanish sauce. Alioli (often called "aioli" in English) is one of the most common Spanish sauces.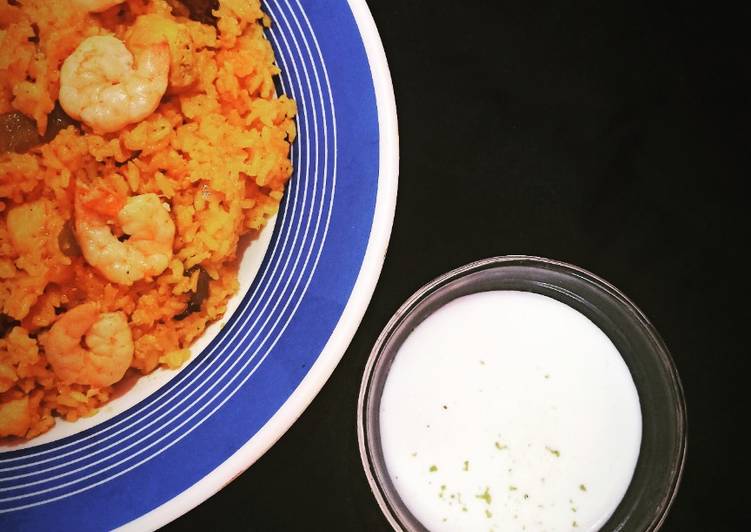 It's an impressive yet low-key Spanish dish that's perfect for parties! In Barcelona, we ate ourselves silly on paella. My mission while in Spain was to try as many versions. You can cook Spanish Paella with Aioli sauce using 17 ingredients and 14 steps. Here is how you cook that.
Ingredients of Spanish Paella with Aioli sauce
You need 300 gm of Bomba rice/ Arborio rice/Gobindhobog rice.
It's 150 gm of Chicken.
Prepare 7-8 of Prawn.
You need 100 gm of Pork cubes.
You need 4-5 of sausages (chopped).
You need 3 tsp of Tomato puree.
You need As needed of Chicken stock.
You need 2 of medium onions chopped.
Prepare 1 of red bell pepper chopped.
It's 6 of Garlic cloves.
It's pinch of Saffron.
Prepare To taste of Salt.
It's As needed of Yogurt.
It's As needed of Cream.
It's 2 tsp of Lemon juice.
It's 1 tsp of Lemon zest.
It's 3 tsp of Olive oil.
Allioli is the Spanish version of the French garlic sauce aioli — or is the other way around? A spoonful stirred into fideus noodles, paella or fish soup adds richness and a truly garlicky flourish. The purist version is made only with garlic and oil, but it's rather tricky to achieve a proper emulsion that way. The classic of the Spanish classics has meat, seafood, vegetables and, of course, olives.
Spanish Paella with Aioli sauce instructions
First off, wash the rice and boil it for six minutes, when the tiny bubbles form on the surface, switch off the gas and strain the rice. Add some white oil and mix it with the strained rice, otherwise the starch in the rice can make it sticky. (We need a rice that's 30% boiled).
Next, marinate the prawn and sausage with some lemon, salt, pepper and some sweet chilli and fry it separately. After frying, keep the prawn aside and chop the sausages..
Try to follow a recipe to make the tomato puree at home or just buy a canned puree. Homemade tomato puree is easy. Boil two tomatoes, peel the skin off, add some onion and grind it into a paste. Then slightly fry in oil the puree with some salt, garlic and vinegar and strain it. The taste becomes better than canned ones..
I used pre cooked pork since red meat takes a lot of time to soften and paella will be overcooked if we use uncooked pork..
Let's start with the paella. Heat 3 tsp Olive oil and add the chopped garlic, bell pepper and onion. Fry it for a minute.
To this, add the chicken cubes, sausages, pork and fry it for one more minute..
Now to this, add the tomato puree and let all the ingredients cook for about 2 minutes.
Add the chicken stock and then add some salt and pepper. Check the taste..
When it starts to boil, add some saffron. And then add the pre-boiled rice..
Add the rice in a certain fashion. Start spreading the rice in longitudinal order and don't stir the rice. Reduce the flame and cover the pan for 6-7 mins.
After 7 mins you can see that the rice is cooked and a little mushy. Paella is supposed to be mushy..
Place the fried prawns on top and cover the pan. Switch off the gas. I will show you a photo of the ready paella after I already had my first serving though..
The sauce is really easy. To the grinder jar, add the garlic paste with 2 spoons of yogurt, 1 spoon cream, 1 spoon lemon juice and some lemon zest. Add 1/2 teaspoon of salt and a pinch of sugar. Run it in the grinder. The garlic tinge should be high in the sauce..
Now a foodie's picture of how you are supposed to eat it..
Ready to immerse yourself in the authentic taste of the Mediterranean? We often call this Spanish sauce aioli in English. I proceeded to ask her what it was and how it tasted, but she insisted I try it myself to form my own opinion. The smooth texture reminded me of mayonnaise, but the punch of garlic made it the most flavorful mayonnaise sauce I had ever tried. All Topics in Sauces and Condiments.