How to Prepare Perfect Chicken and Seafood Paella
Chicken and Seafood Paella. This version of seafood paella includes chicken and pork, as well as clams, mussels, and shrimp. It's a bit of mar y montaña—or surf and turf—as they say in Spain. A traditional paella pan, a long wooden spoon or paddle, and a barbecue or gas burner are needed to prepare this seafood paella.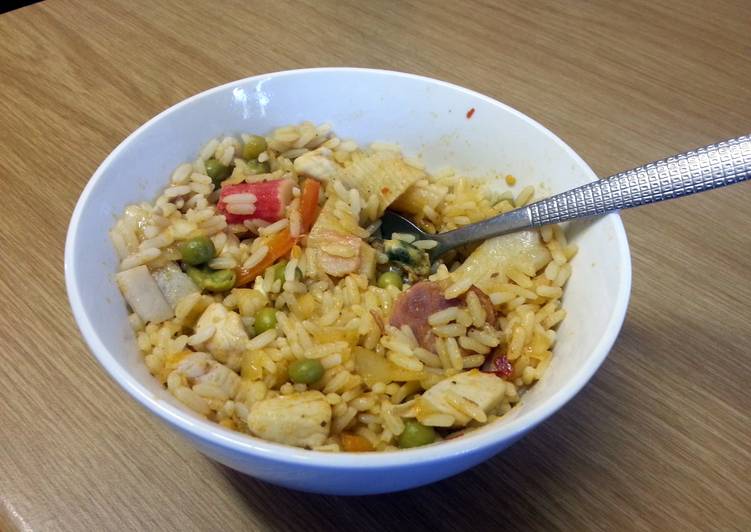 Stir the cooked chicken into the rice. A wonderful Spanish Paella that's very easy to make and the presentation is great as well. You'll need a very large skillet or a paella pan. You can have Chicken and Seafood Paella using 15 ingredients and 12 steps. Here is how you cook it.
Ingredients of Chicken and Seafood Paella
You need 1 tbsp of oil.
You need 1 of onion.
Prepare 2 of chicken breasts.
It's 1 of 225g chorizo sausage.
It's 1 of red pepper.
Prepare 1/4 cup of tomato paste.
Prepare 2 tsp of paprika.
You need 1 of garlic clove.
Prepare 1 bag of frozen seafood mix.
It's 1 of chicken stock cube.
Prepare 1 cup of cooked peas.
It's 1/2 tsp of chilli flakes.
You need 1 of juice from one lemon.
It's 2 cup of rice.
You need 1 of fresh black pepper.
Return chicken and push down into rice. Recipes - Paella with Chicken & Seafood. This is the paella best-known to visitors to Spain. The yellow rice includes bits of chicken, squid, shrimp and mussels.
Chicken and Seafood Paella instructions
Start by cooking your rice for about twenty minutes..
Slice and cook your chicken breasts..
Chop and peel your onion..
Seed and slice your red pepper..
Heat oil in a paella pan..
Disolve chicken stock cube in one cup of boiling water..
Add onion to paella pan and fry until soft..
Add all other ingredients, apart from rice and pepper..
Let simmer for 5 minutes..
Add rice, and stir until warm through..
Sprinkle black pepper over dish..
Serve, preferably with a glass of white wine..
You can savor it at a Costa del Sol beach bar or at almost any restaurant in Andalucía. In the metal paella pan, heat the oil. Add the chicken pieces and fry over high heat until golden. Paella is one of my favorite dishes to cook when entertaining. Not only is it delicious but it's a one-pot dish which makes for simple preparation and easy clean-up.