Recipe: Delicious Roast butternut squash risotto
Roast butternut squash risotto. This butternut squash risotto recipe tastes incredible! Roasted butternut squash and crispy fried sage take it over the top. This risotto is also healthier than most, since it calls for brown rice instead of white, and requires practically no stirring.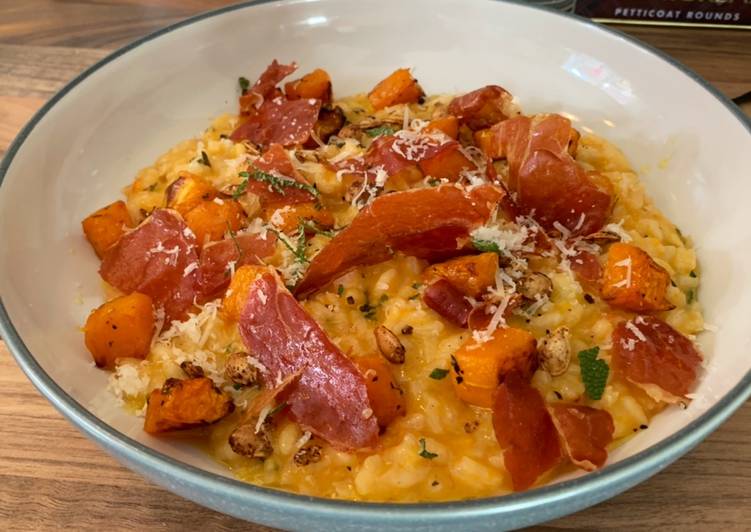 While the squash is roasting, prepare the risotto. Bring the stock to the boil and keep on a low simmer. In a separate pan, melt half the butter over a medium heat. You can have Roast butternut squash risotto using 11 ingredients and 9 steps. Here is how you achieve that.
Ingredients of Roast butternut squash risotto
Prepare 1 of small/medium butternut squash.
Prepare 250 g of arborio risotto rice.
Prepare 1 of small onion.
Prepare 1 tsp of thyme leaves.
Prepare 5 tbsp of rapeseed oil.
You need 20 g of butter.
You need 4 cloves of garlic.
You need 8-10 of sage leaves.
Prepare 125 ml of white wine.
You need 800 ml of vegetable stock.
It's 3 slices of Parma ham.
Line a baking sheet with parchment paper. A lot of butternut squash risotto recipes call for roasting the squash first. Here, EVERYTHING cooks in the same pot, which means the butternut squash kind of becomes the sauce too. Place squash cubes into a steamer basket in a saucepan.
Roast butternut squash risotto step by step
Preheat oven to 200c. Peel and cube butternut into 2cm cubes. Coat in a little oil and seasoning. Place in the oven with whole garlic cloves until golden brown. Bring out and re toss every 10-15minutes to colour evenly.
Coat butternut seeds in 1tsp oil, salt, pepper and a generous pinch of cayenne pepper. Lay out Parma ham on the same tray. Bake until ham is crispy and seeds are well toasted..
While the butternut is roasting, start the risotto...
Sweat off the finely diced onion in the butter and 1tbsp of the oil on a gentle heat. When the onion is soft and translucent add in the rice and thyme, stir to coat. Continue to cook gently until the outside of the rice has gone clear. Add in the white wine reduce fully. Then add one ladle of stock. Stirring continually to promote even cooking..
Continue to incorporate stock one ladle at a time ensuring that it is fully absorbed before adding the next. Gentle stirring..
Once the butternut is well coloured and the garlic has roasted. Place half the roasted butternut into a vessel and blend to a purée.
Reserve the roasted garlic, snip off one end of each clove and squeeze out the sweet roasted garlic like a tube of toothpaste..
When the rice has almost fully cooked stir in the purée, roasted garlic and chopped sage to combine..
Placed finished risotto into a bowl and garnish with reserved roasted cubes, Parma ham crisps and toasted seeds..
Add water, cover, and bring to a boil over medium-high heat. Bash up your coriander and chillies with a pinch of salt and pepper in a pestle and mortar (or use a metal bowl and the end of a rolling pin). Dust this over your squash with a tablespoon of olive oil. Add squash and sprinkle with salt, pepper, and chili powder. Cook for several minutes, turning gently with a spatula, until squash is deep golden brown and tender (but not falling apart.) Increase the heat to medium and stir in the rice.